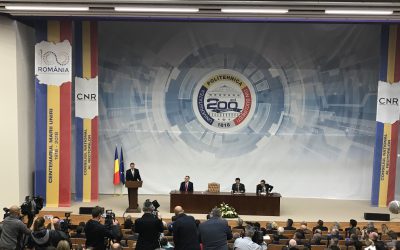 On 4 October 2018 in the New Aula of the University Politehnica of Bucharest, we celebrated 200 years since Gheorghe Lazar founded the first higher technical school in Wallachia, The Academic School for Philosophy and Mathematics Sciences at the Monastery St....
According to the Decision of the Board of Directors of the UPB No. 14, from 11.03.2020, during the period 11-31.03.2020 the didactic activities will take place on-line. More details in the course forums at: http://aero.curs.pub.ro
read more
Two job vacancies were announced by the Irish Aviation Authority, deadline 10 March 2020. Our graduates have been successful with their application at IAA in the past, so there is some goodwill gathered by our Alumni. <Details>
read more
This year the student scientific session will be held on Friday, May 8, 2020. E. Carafoli Department will organize section 09-01 Aircraft, Propulsion Systems and Air Navigation. N. Tipei Department will organize 09-02 Aviation Equipment, Facilities and Aviation...
read more
After 9 years, tomorrow, 18.02.2020, a new interview will take place with Mr. Conf. Petrișor Valentin Pârvu regarding the activity related to UAVs in the Faculty of Aerospace Engineering. The interview 9 years ago took place at the show Science Cafe, transmitted from...
read more
We are pleased to invite faculty and interested students to attend the International Conference: INTERNATIONAL CONFERENCE ON ENERGY, ENVIRONMENT AND STORAGE OF ENERGY ICEESEN 2020, Kayseri, Turkey Why this conference? relatively small participation fee: 350EUR for...
read more
Submission of applications by February 21 The representativeness of the students in the university is an essential component in the management structures. The students are decision-making partners, so the choice of representatives and their active involvement in the...
read more
ALTEN Delivery Center Bucharest, subsidary of the French Group ALTEN, leader in engineering and technology continues its involvement in the academic community and its support of the new generations of engineers by organizing of a new session of the CATIA Lab,...
read more
Fokker Academy was established in March 2017, in the wake of signing the Partnership between UPB Faculty of Aerospace Engineering and GKN Fokker Engineering Romania. In the Fokker Academy, our students learn to design directly from highly experienced engineers,...
read more
The 44th edition of the Summer School Alpbach will be held from 14 to 23 July 2020, the topic of the 2020 edition is " Comparative Plasma Physics in the Universe". University students and young graduates have until 31 March 2020 to apply. Held annually since 1975 in...
read more
NMAS 2020 20 - 21 May 2020, Bucharest, Romania Workshop will be held in Bucharest, at INCAS, B-dul Iuliu Maniu no. 220, sector 6 To the Participants: Professors, engineers, researchers and interested students are invited to participate in the 8th...
read more