Equipping the Aerospace Structure Laboratory with an AG6 aircraft
The Faculty of Aerospace Engineering wishes to warmly thank the management and staff of AEROSTAR S.A. Bacau that contributed to the endowment of the Aerospace Structures Laboratory by donating a utility aircraft type AG-6. We also thank EUROAVIA members and other students who participated in (re) assembling the aircraft in the Aerospace Structures Laboratory.
AG-6 aircraft (http://www.inav.ro/aeronautica_ag6.php) is a biplan designed specifically for spraying or sowing agricultural materials from very low and low altitude, practically for any type of field. The aircraft has a non-load bearing type structure, the fuselage being a lattice-like structure (Fig. 1). The wings of the biplan have metal struts, the extras and the attack board being metallic, while the intrados is studded. The landing gear is tall, with a damper on the main train, ensuring take-off and landing on any terrain.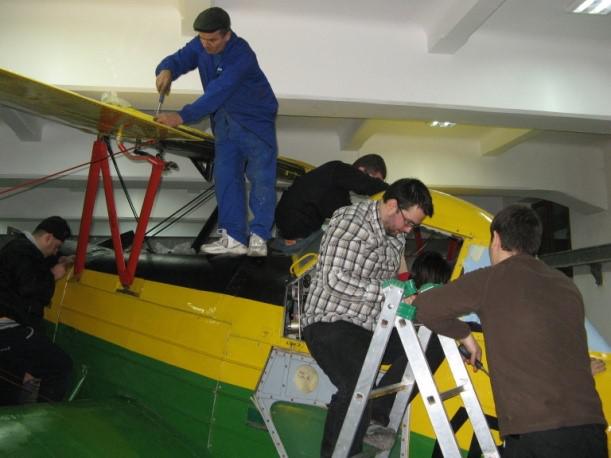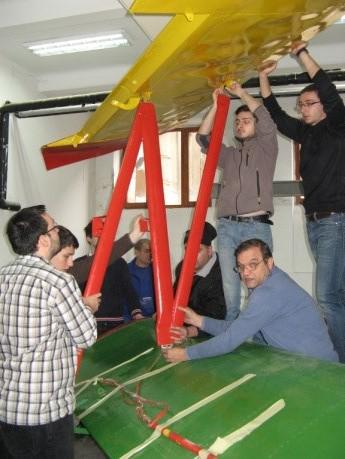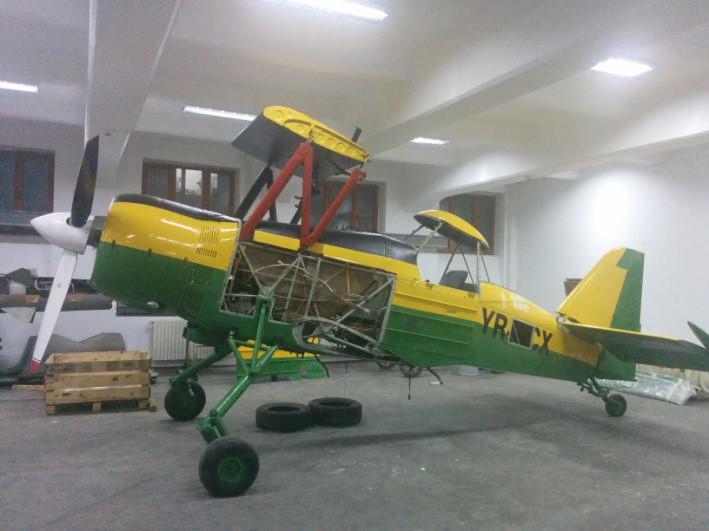 The single seat cockpit is equipped with all necessary navigation and control instruments. Being elevated, with plenty of glass surfaces, the cockpit offers good visibility to the pilot. The aircraft is highly manoeuvrable and has a M-14P radial engine that develops 360 hp (the same engine also equips the Yak-52), the traction being ensured by a variable pitch triple propeller. The biplan solution and the short engine half are the main advantages of the aircraft. Maneuverability is important for tight turns around or over obstacles in a safe way, while the agile engine ensures fast climbing over unanticipated obstacle. The prototype of the AG6 aircraft was manufactured by AEROSTAR Bacau, where it made its first flight on January 12, 1989. This semifunctional prototype is now used in the teaching process within the faculty.
Technical data:
wing span 12.46 m

aerodynamic chord 1.5 m

certified base weight 2700 kg (FAR-23 NORMAL)

maximum take-off weight 3200 kg

speed ​​not to be exceed 255 km/h

maximum cruising speed of 195 km/h

maximum operating speed for spraying substances 185 km/h

stall speed (with the engine stopped) 95 km/h

climbing rate 300 m/min

take-off distance 150 m

landing distance 180 m.