The Romanian Administration of Air Traffic Services ROMATSA and the University Politehnica of Bucharest, Faculty of Aerospace Engineering have signed on 13 August 2008 a cooperation protocol for 12 years, a strategic partnership to harmonize the programs of studies in aerospace engineering and the research subjects to the actual needs of the aeronautical companies and rising the quality of the aviation education and evaluation. The Protocol provided reciprocal support and exchange of human, material, financial and information resources. In this cooperation, the following activities and objectives were targeted:
Partnership in bilateral and multilateral scientific research in aerospace engineering, by adopting in the UPB research plan in the next 4 years of subjects of interest for ROMATSA, by cooperation within national, European and international research programs, through participation to the international conferences in the field.
Establishing of Air Navigation bachelor and master programs of studies in the Faculty of Aerospace Engineering UPB taught in English.
Starting a professional studies center for air traffic controllers based on the most modern educational concepts and technologies. 
Running programs of recruitment, training, and testing of students to ensure a good quality selection base for ROMATSA.
Preparing and implementing a common plan for internship of UPB students in ROMATSA units.
Ensuring the curricular convergence of UPB aerospace engineering programs with the current and perspective level in Europe, through compliance with EASA Part 66, with the objective of professional accreditation by the Romanian Civil Aviation Authority. 
Building and supplying of an Air Navigation Laboratory in UPB, for the use of students and the air traffic control trainees. UPB supplies with teaching and auxiliary personnel, and a suitable space, and ROMATSA will fund and equip the laboratory. 
Jointly publishing of a professional magazine, of scientific papers, participation in international conferences, organization of specialized workshops, seminars, conferences. 
Promoting and enhancing the Romanian contributions and priorities in the development of the national and global aviation, and the Romanian school of aviation.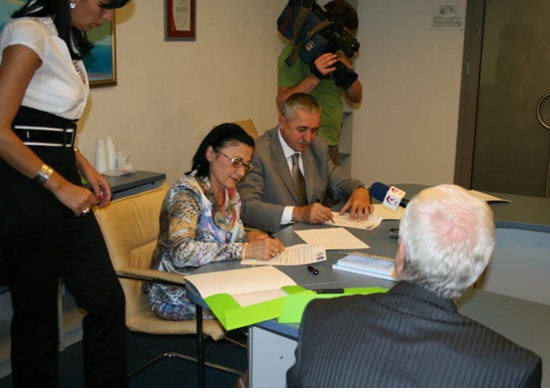 Following the B.E.F. from 13.10.2021 it was approved the extension of the period for submitting the files for scholarships until 20.10.2021, at 16:00.